House and Lot in Iloilo
House and lot for sale in Iloilo from 2M up!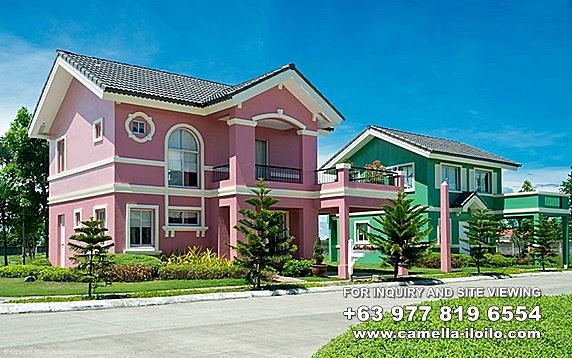 HOUSES FOR SALE IN ILOILO STARTING AT
P 2M
Welcome to Camella Iloilo! Own a beautiful Italian-Mediterranean inspired house and lot located along Savannah Main Road intersected by the Iloilo City-Aleosan Road, and 10 minutes away from the Iloilo International Airport via Iloilo City-Aleosan Road. Enjoy shopping and dining in Vista City Mall that is just 5 minutes away from your home!. Iloilo City is highly urbanized and is the government center of the Western Visayas region, providing an important function in trade, commerce, education, research, and tourism. The village is also dubbed as the 'Savannah City' because of the numerous establishments available in the vicinity of the village. Enjoy these developments for less than the cost only at Camella Iloilo!
Houses and lots in Camella Iloilo are now available!
Featured Properties in Iloilo City

Grande Houses
₱ 15,479,000
₱ 77,872
₱ 9,907,000
₱ 49,840
EasyHomes Series
₱ 7,760,000
₱ 39,039
₱ 7,234,000
₱ 36,393
₱ 6,210,000
₱ 31,241
₱ 5,294,000
₱ 26,633
₱ 4,684,000
₱ 23,564
Lot Only (99 sqm)
₱ 3,458,000
₱ 10,390
Vista Land Condominiums
Condo for Sale in Iloilo City
House and Lot in Iloilo
Camella Iloilo has a wide selection of beautiful Italian-Mediterranean-inspired house models for you to choose from. The contemporary architectural design, materials and finishing of each house are intended to complement the nostalgic environment that feels comfortable, homey and yet familiar.
All house models in Camella Iloilo have either a built-in or optional balcony where you can take pleasure in having early morning coffee or late night get-together and enjoy the sunrise or sunset.
Designed to accommodate your family and friends
The interior of every house model in Camella Iloilo has been carefully designed to accommodate the needs of your family--for today and in the future. Every house in Camella Iloilo is designed to provide the needs of your family. We made sure that your house is as comfortable and spacious as you want it to be. Your future home will have at least 3 bedrooms, 2 toilets and baths, and a space for your car. The wide kitchen and dining room are well laid out for gatherings and parties. High ceilings and many windows installed to allow the fresh air to enter and cool your beautiful home.
Bedrooms in Camella Iloilo houses
In Camella Iloilo, house models have two storeys and at least three bedrooms for the comfort of your family and friends. The artist in you will enjoy designing the best layout of your house. For each floor, toilet and bath is conveniently situated to accommodate a full house. Let your inner artist shine and enjoy designing each room according to your preferences. In Camella Iloilo life is what you want it to be!